MISSION STATEMENT
The mission of the Godly Network is to provide a source of high quality, Godly and family programming, airing 24 hours a day, 7 days a week, free to everyone in the world who has internet access.
ABOUT OUR FOUNDER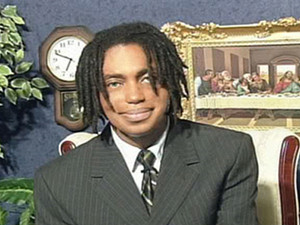 Dr. ROGELIO MILLS, D.D., C.E.D., MCom, M.C.E, M.Div., is a North Carolina native. He is Hispanic and Black, with Puerto Rican roots.
A HIGHER CALLING
Dr. Mills audibly heard the voice of GOD call him to minister in the Prophetic office at the age of 14. He was licensed to preach the gospel at a young age. At the age of 16 he was called upon to be the Assistant Pastor at a church fellowship in North Carolina.
EDUCATION
Dr. Mills went to Jamaica , NY, where he was taught ministry, theology and divinity, under late Dr. Charles Sadaphal Sr. He returned to North Carolina in 1983, where he founded his own church, the Christian Youth Foundation.
From 1983 to 1987, Dr. Mills continued his education as a pastoral telephone counselor at Heritage USA . He prayed for and counseled people worldwide. While there, he was parented spiritually by Jim and Tammy Faye Bakker who founded the worldwide television ministry P.T.L. and the Inspirational  Television Network. Tammy Faye Messner-Bakker called Dr. Mills her kid up until her death.
Dr. Mills has received a Masters Degree in Divinity, a Masters Degree in Christian Education, a Doctor of Divinity Degree and a Doctor of Christian Education degree. Dr. Mills has also earned a Masters Degree in Communications from Spring Arbor University in Michigan. Currently Dr. Mills serves as an overseer of Prophetic Outpour Church.
ACCOMPLISHMENTS
In 1988 the Holy Spirit of the Lord called Dr. Mills to come to Detroit to begin a ministry. While in Detroit, he used his God-given talent to sing and write songs to help the homeless.
HONORARY PROCLAMATION
In 1991, Dr. Mills also established a charitable organization, which was to educate the Detroit community about child safety and prevention techniques for protecting little children entitled the "Missing Children's Awareness Foundation."  In 1996, the Missing Children's organization caught the attention of Mr. Dennis Archer, former Mayor of Detroit, Michigan; who honored him with an honorary proclamation plaque on the behalf of his courageous efforts.
Since that time, on three additional occasions, Dr. Mills has been honored with proclamation plaques for his courageous efforts to protect Detroit's most vulnerable citizens—its children. These three proclamations were given to him by the three mayors that succeeded Mayor Dennis Archer. These are: Mayor Kwame Kilpatrick (1996), Mayor Kenneth Cockerel (2008) and Mayor Dave Bing (2009.) 
From 1992 to 1996, Dr. Mills started a youth fellowship to keep young people off the streets entitled the "Caring Youth Fellowship." As the Fellowship began to grow, young adults and adults alike, came to attend the church fellowship. In the year 2000, Dr. Mills changed the name of the fellowship to Prophetic Outpour Church , where he serves as the founder and Senior Pastor. Currently, Prophetic Outpour Church is one of Metro Detroit's fastest growing interracial churches.
 In 2006, the Honorable Governor of Michigan, Jennifer Granholm, called Dr. Mills a "role model."
HONORARY DOCTORATE
In May of 2001, Faith Evangelistic Christian Schools Bible College and Seminary in Detroit, Michigan honored Dr. Mills with an honorary Doctorate degree for both his life work in ministry and his inspirational work in television.
THE ROGER MILLS TELEVISION TALK SHOW
In June of 1991 the Spirit of God spoke and said to Dr. Mills "I want you to go on secular television and inspire the troubled and hurting inner city youth of Detroit." With just a video camera and faith in God, Dr. Mills created a television show that he hosts today and is known throughout the world as The Roger Mills Show. The show's format is talk/inspiration entertainment. Dr. Mills is also the founder of the first internet television network entitled: TGN (The Godly Network).
"Celebrities in the music world and on the big screen sit down to chat with this interviewer, let him go on tour with them and appear on his talk show.  Although local talk/video show host Roger Mills, who lives in North Carolina , probably doesn't have the name recognition of Oprah Winfrey and his show isn't on a national network, Mills doesn't have any problems scoring big in the celebrity guest market. Mills' guests have included Michael Jackson, and athletes Magic Johnson, Shaquille O'Neal and Grant Hill. He recently interviewed Usher while the musician was on tour with Janet Jackson." - says April Lehmbeck -  C&G Newspapers
Detroit 's WJBK TV Fox 2 News' Melody Brooks, calls him "Detroit's cable talk show host."
The Roger Mills Show is a syndicated program, airing on multiple cable stations and Satellite Outlets, as well as the ION Network, and it is viewed globally on TGN channel 2: The Godly Network.
Dr. Mills is a member of the media, which is the National Academy of Television Arts & Sciences - Michigan Chapter. Currently, Dr. Mills is known throughout Hollywood from the motion picture industry and music industry. He has worked amongst the music industry, including the Grammies, Soul Train Awards, and many other music award programs. He has interviewed grammy winning music moguls, such as Quincy Jones, Michael J. Powell, and Russell Simmons.
He has interviewed Hollywood celebrities such as Hollywood Actor Jackie Chan, as well as Hollywood Actress Jennifer Love Hewitt, Hollywood actress Vivica A. Fox, Hollywood Actor Tom Selieck,  Oscar winning Hollywood actress Halle Berry, Hollywood Actor/Comedian from the movie "Barbershop", Anthony Anderson, Hollywood Actor Kirk Cameron from the Hollywood Movie "Left Behind ", Hollywood Actor John Schneider from the Hit TV series "The Dukes of Hazard", Hollywood actress/singer Tatyana Ali from the hit NBC television series "The Fresh Prince of Bell Air",  Hollywood actor/rap star LL Cool J and Grammy winning Hollywood actor/singer Usher. The list goes on of famous personalities who embraced Pastor and Talk Show Host Dr. Mills!
AUTHORED BOOKS
Dr. Mills has authored a successful selling book entitled: "While out of my body, I saw GOD, Hell and The Living Dead."
Dr. Mills has also authored a forthcoming sequel entitled: "While out of my body, I saw GOD, Heaven and The Living Dead."
As of the present, Dr. Mills is very active with his role as the President and founder of the Godly Television Network, which has caused him to be in great public demand as a Bible teacher and inspirational  speaker.  He is called upon to speak both to the secular and Christian communities all over the United States.
MUSIC
Rogelio Mills is a singer, songwriter and music producer. He released his first single on Phoenix Fire Records called "Christmas is Not Christmas Without You" in which he produced, wrote and sang. The single is receiving positive reviews from some of the biggest names in the recording business! That list includes five-time Grammy winning record producer, Michael J. Powell, who collaborated with Mills on this single. Mills will be releasing a new single in 2011 which is expected to take the music industry by storm. Mills is using the proceeds from his music to help build his new church (His church was vanadalized not too long ago).
THE GODLY NETWORK
In 1999, Dr. Mills was inspired to create a television network.  With faith in God and determination, he pressed toward this goal, which led to the birth of the Godly Network. As the years went by, the vision of the Godly Network has extended to the Internet. In 2008, The Godly Network Website was born, it contained 8 different channels of streamed Godly video programming with just the turn of a digital dial. In 2009, the Godly Network was expanded to 18 channels and is the world's first multi-channel, internet television network, featuring good television and radio programming, twenty-four hours a day, seven days a week, for the whole family.